Wurmi
Basic Info
Temperament
Passive
Health
N/A
Speed
Unknown
Wurmi is a non-aggressive creature found on Atlas.
Behavior
[
]
Like the Daperdilo, the Wurmi will not attack the player, even when provoked. Upon seeing a player or leech, the Wurmi will attempt to run away.
Biology
[
]
Males of the species have a single horn on their head, while females have two smaller ones.
The Wurmi possesses Bio-luminescence, giving it a bright green glow. This makes it very easy to spot at night.
TTK (Time To Kill)
[
]
Zip Gun- 1 shot
Pistol- 3 shots
Rusty Assault Rifle- Test Pending
Assault Rifle- Test Pending
Shotgun- 1 shot (assuming all pellets hit)
Chaingun- Test Pending
Media
[
]
Images
[
]
Male Renders

Female Renders

Wurmi In-game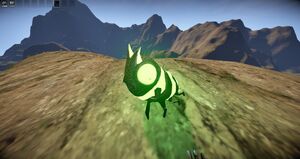 Trivia
[
]
Prior to v0.5.0 two Wurmi could be found as Easter Eggs on the Creative map, bringing the two together caused heart particles to be emitted by them.