Hovership Speedy
Basic Info
Type
AFV
Resource Cost
50 Voltronic Ore, 100

Steel Ingot

, 45

Graphene Ingot

Speed
High
Health
High
Crew
1 (Driver)
Armament
N/A
The Hovership Speedy is the largest and most expensive of the hovership vehicles in StarForge. It has only a single seat, but is the most nimble and quick hovercraft. The two forward fins and upright stabilizers distinguish the craft, as do the large laser cannon on top. Players must be cautious when exiting the vehicle since the exit point is high up from the ground and can cause player damage or death when at low health.
The Hovership Speedy costs 50 Voltronic Ore, 100 Steel Ingot, 45 Graphene Ingot to forge.
Media
[
]
Images
[
]
Pre-v0.5.0 Appearance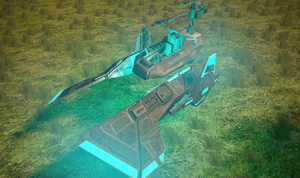 Update History
[
]