Hovership Double
Basic Info
Type
IFV
Resource Cost
400 Iron Ore, 250 Oil, 15 Sand
Speed
Medium
Health
Medium
Crew
2 (Driver, Passenger)
Armament
N/A
The Hovership Double is somewhat faster than the Hovership Basic, but is significant slower than the Hovership Speedy, and less well-armed. There is also a single seat varient, the Hovership Single.
Like all hoverships, it produces a low intensity blue light that can aid in locating it at night.
It currently costs 400 Iron Ore, 250 Oil and 15 Sand to forge.
Media
[
]
Images
[
]
Pre-v0.5.0 Screenshot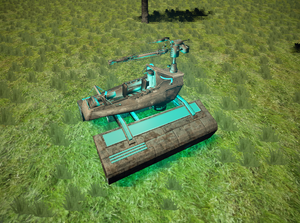 Update History
[
]